German Shorthairs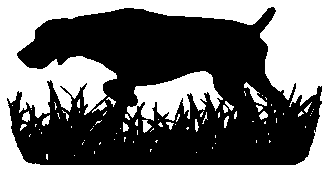 In Loving Memory of a wonderful shorthair
May you forever point birds in sky.
July 27th 1996 - May 28th 2006
Lehman's Classic Highland Toby

Click here to view Toby's pedigree.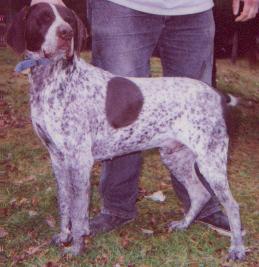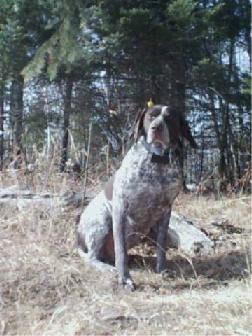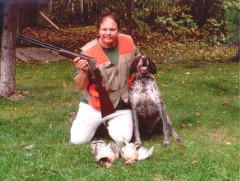 Toby loves to hunt and is a good family dog.
Toby's Grand Father is FC Dixieland's Rusty.

Lehman's Hair Trigger Von Hanau
We lost Hanau August 16th 2012 We miss you
Hanau is an excellent hunter and a wonderful family dog.
Since Jan 2004 Hanau has been retired from breeding.
Click here to see Hanaus Pedigree.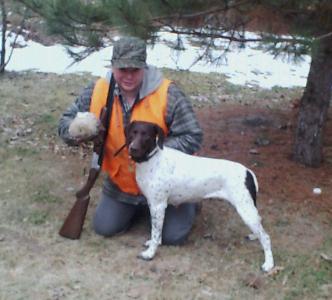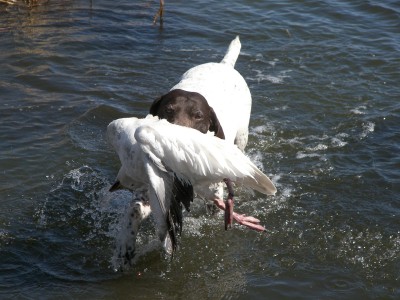 Yes German Shorthairs can retrieve out of the water
Hanau retrieving a snow goose on 3-16-09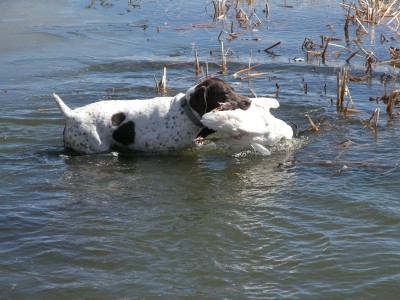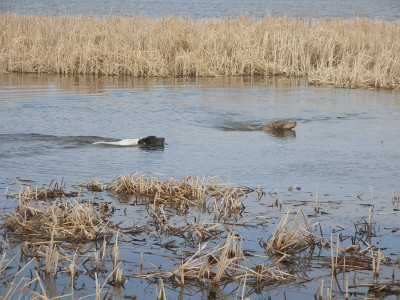 Hanau 3-16-09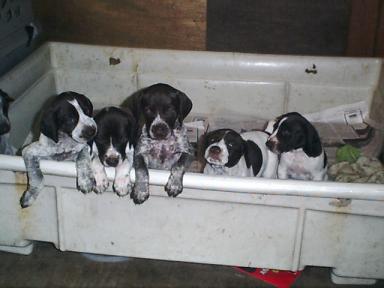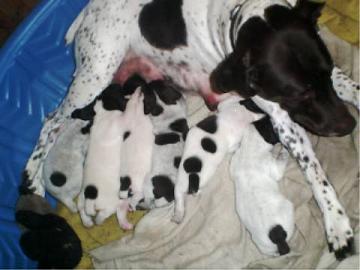 Hanau's Pups from 2003
Hanau and Toby's son IKE born in 1999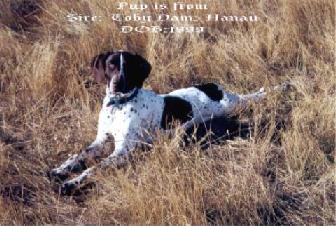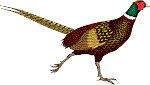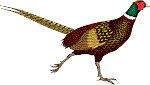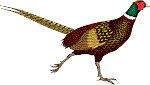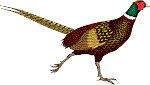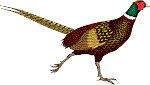 Lehman's Chocolate Almond Baily
Click here to see Baily's pedigree.
We lost Baily Sept 27th 2012 We miss your talking back Baily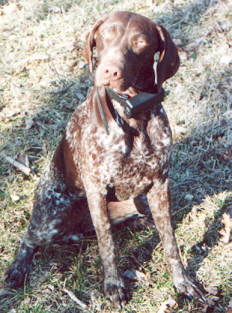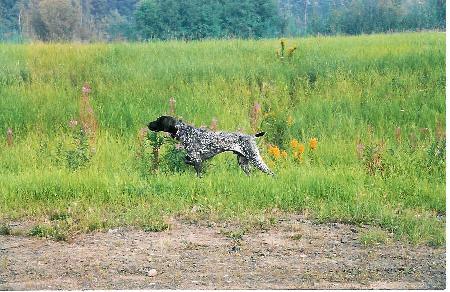 This is a son of Baily and Toby born 2001.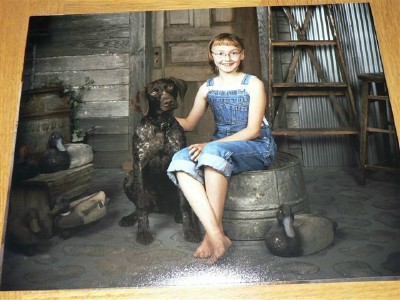 This is a son of Baily and Toby Born Oct 2004
Lehman's Rugged Wrangler
RETIRED
The son of Toby.
Wrangler was born on Dec. 26, 2002 and is 8 weeks old in this picture
He will grow up to be our new stud.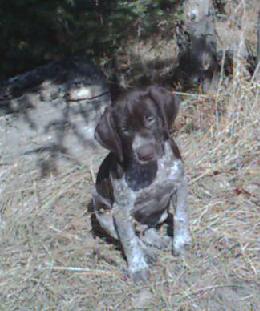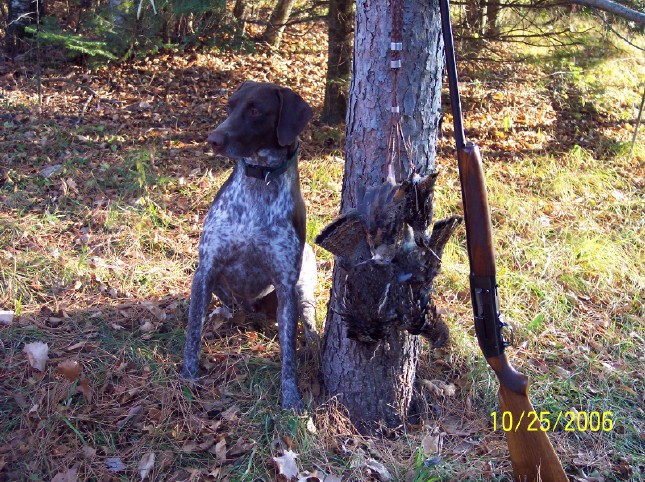 Click here to see Wrangler's pedigree.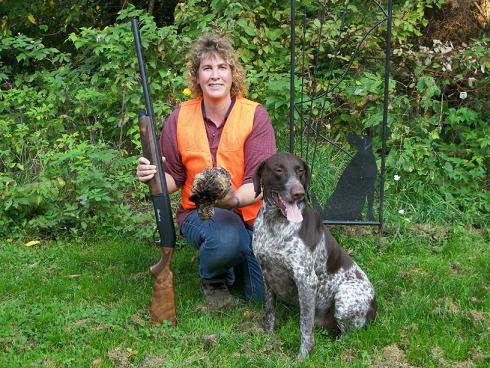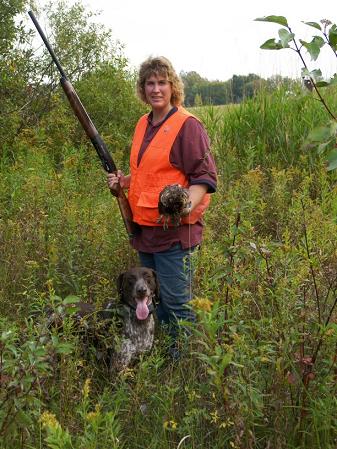 Vickie and Wrangler grouse walk on 9-22-08 with my new Weatherby SA-08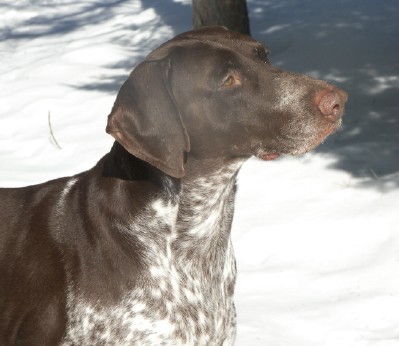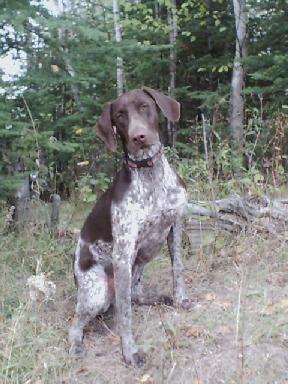 Charlie and Wrangler
10-25-04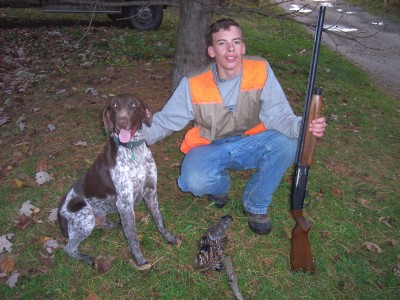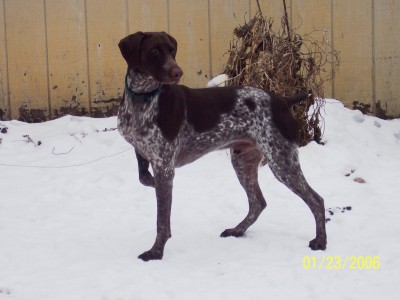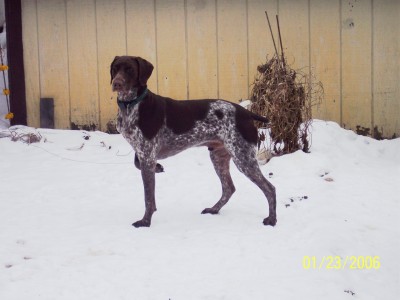 What do you see Wrangler?
Lehman's Von Wreck-N-Shitz
Click here to see Wreck-N's Pedigree
RETIRED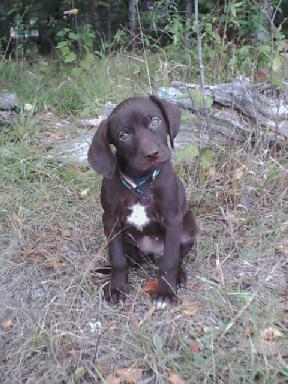 This is our new little girl, Lehman's Von Wreck-N-Shitz.
She is 8wks in this picture and was born Aug 7th 2003.
Wreck-N-Shitz is from the Shooting Star line and is solid liver
with just a little white on her chest.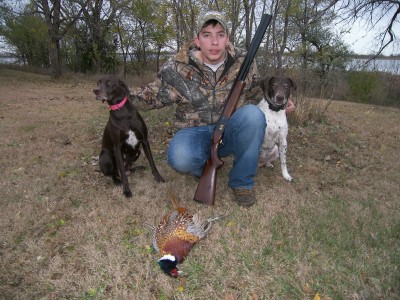 Wreck-N Charlie and Hanau in SD in Oct 2009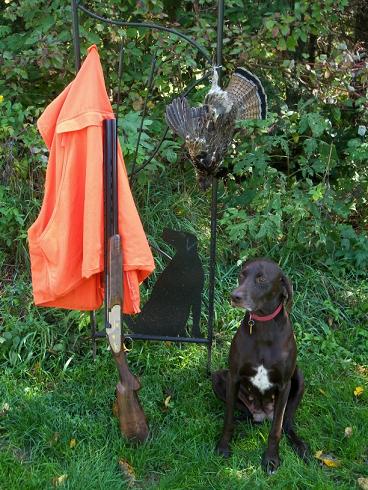 Wreck-N and Chucks Grouse Walk 9-24-08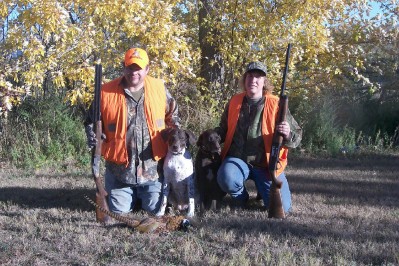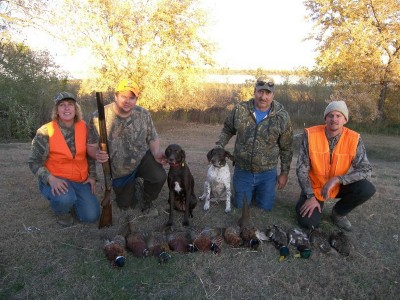 Wreck-N and Hanau in SD at our cabin We had a blast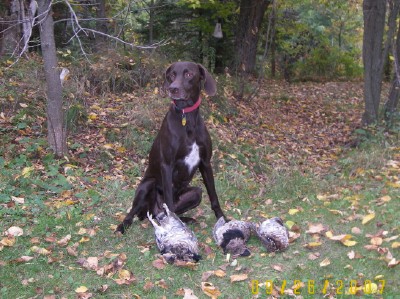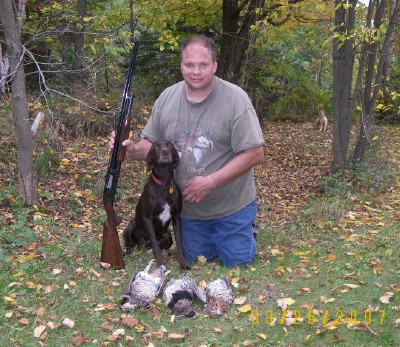 Wreck_N_ and Chuck 9-26-07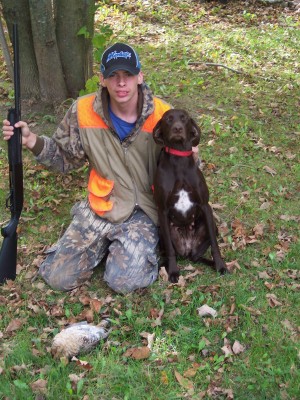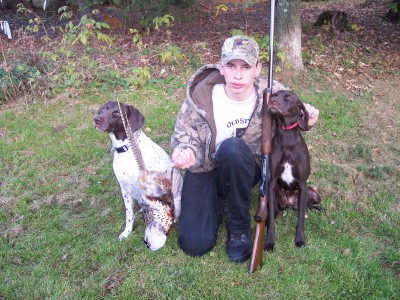 Charlie and Wreck-N Picture taken on Sept 26th 2005. Wreck-N is 2yrs old now. Charlie, Hanau, and Wreck-N found a rooster here in northern MN 10-26-05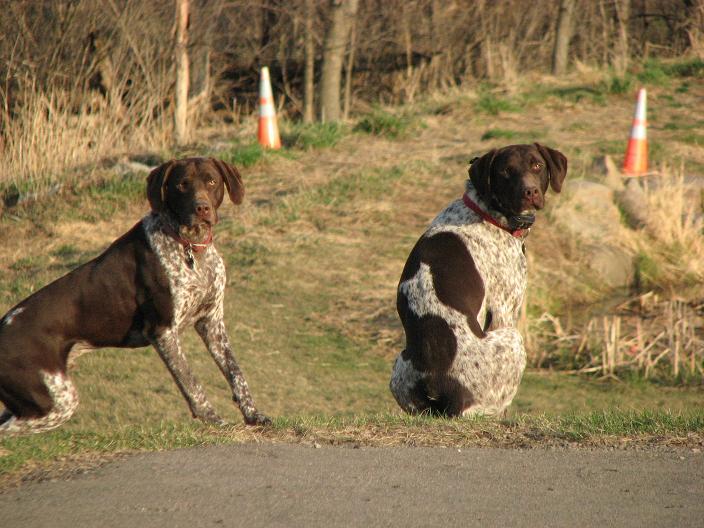 This is Levi and Strauss and they reside in MN
They are sons of Wreck-N and Wrangler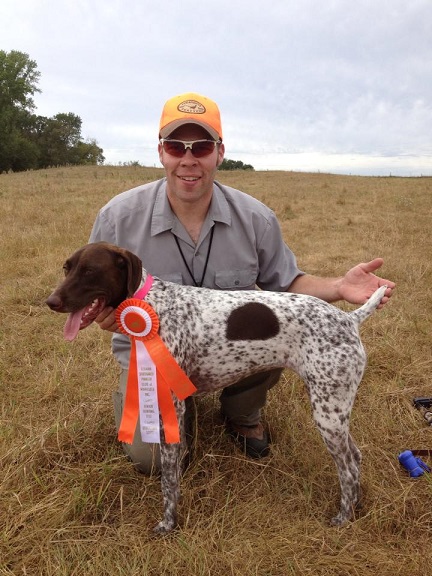 Gertie is also a littermate to Mesa
Lehman's Von Wreck'n Smora
"Mora"
DOB 4-25-05 RETIRED
Click here to see Smora's pedigree
This is Wreck-N's sister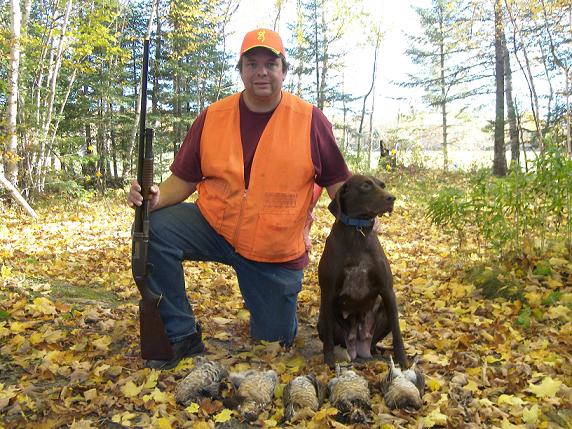 Mora and Chuck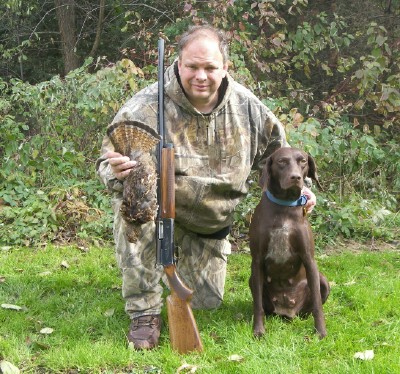 Mora and Chuck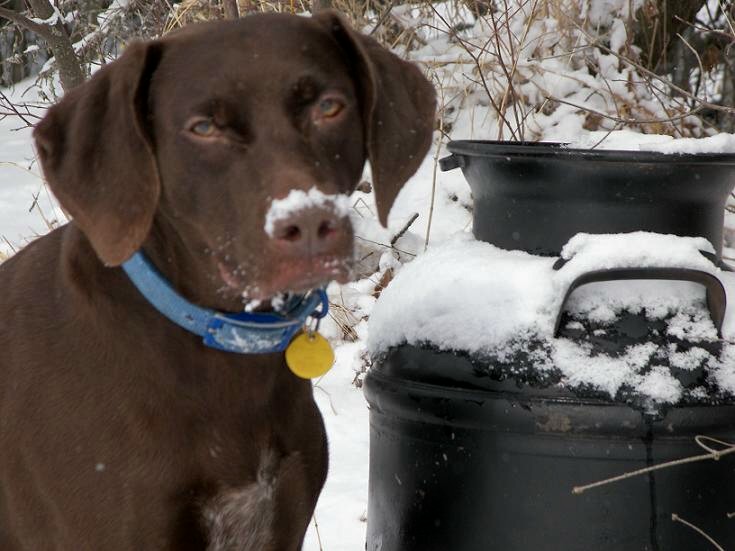 Mora in the snow 3-12-11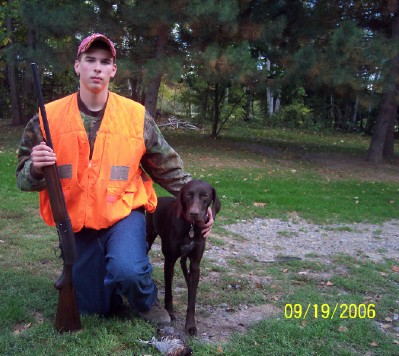 Mora's first Grouse 9/19/06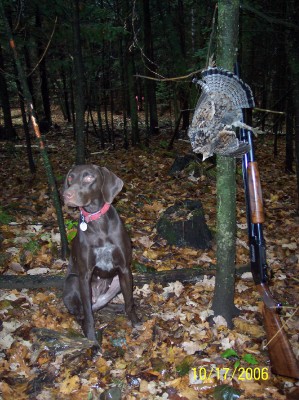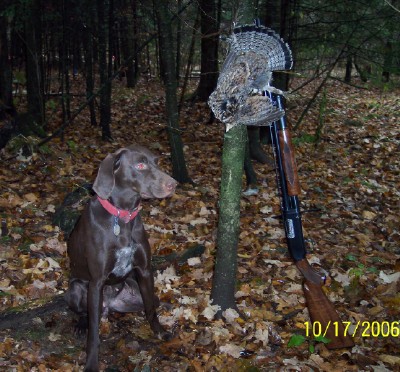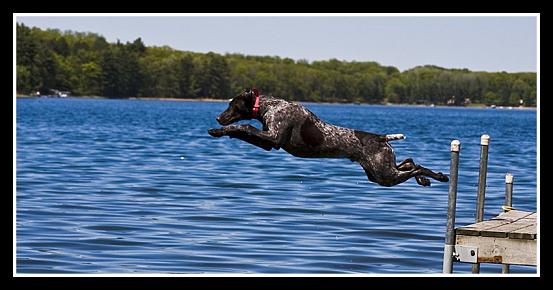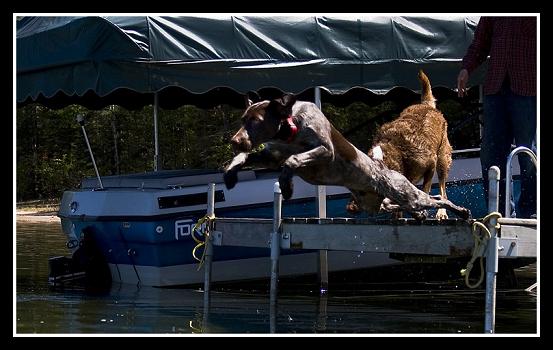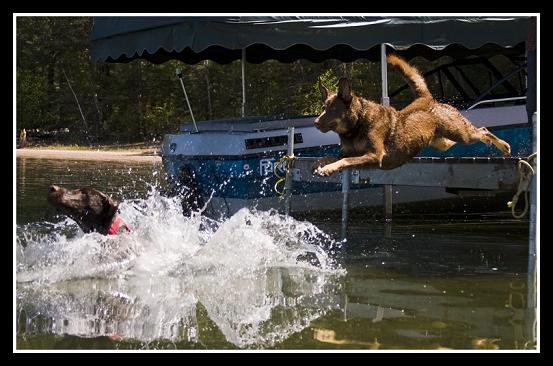 This is a son of Mora and Wrangler 5-31-09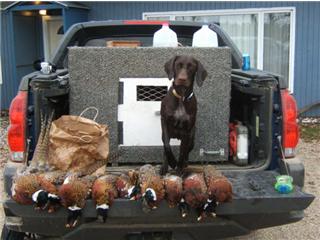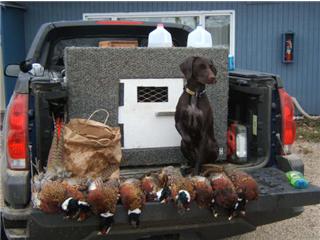 This is a daughter to Mora and Wrangler fall 2007

Lehman's High Velocity Tripper
DOB 4-10-10
CLICK HERE TO SEE TRIPPER'S PEDIGREE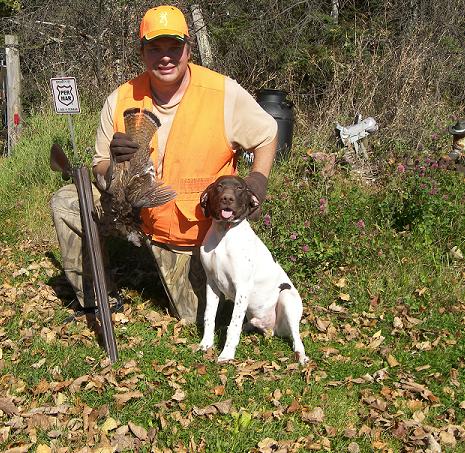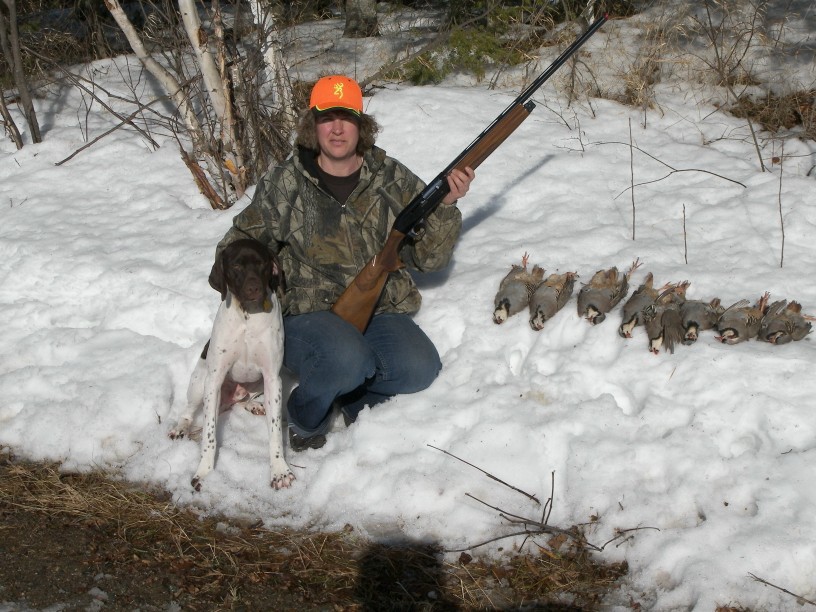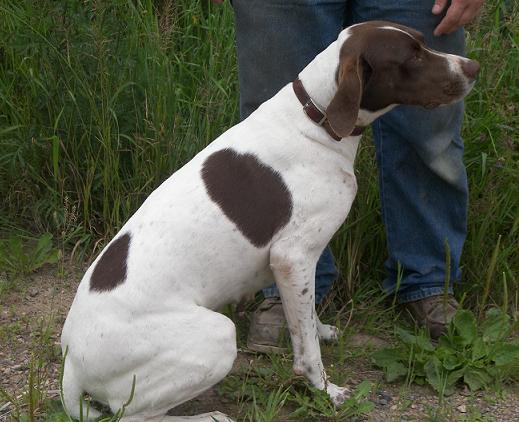 This is the Trippers Dam Mason's Morgan Girl
Lehman's Von Wreck-N Mesa
She is a daughter of Wreck-N and Wrangler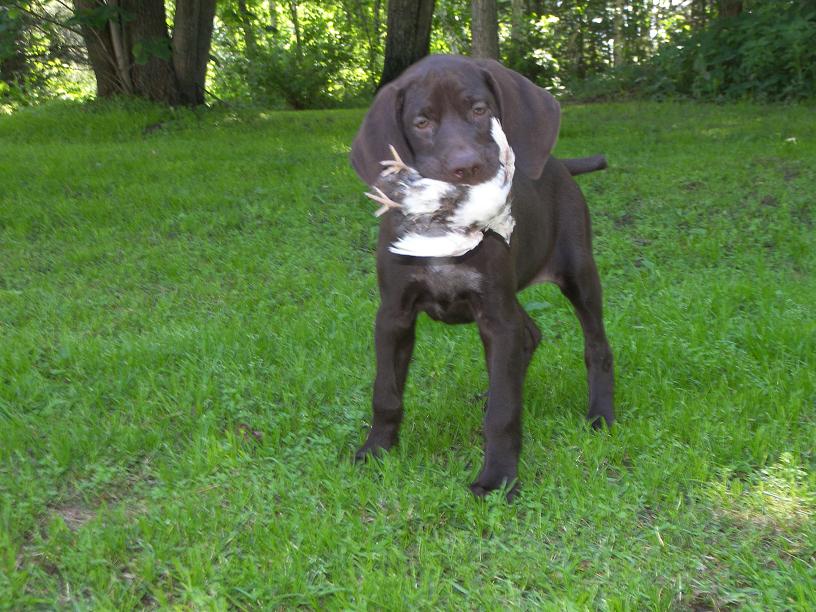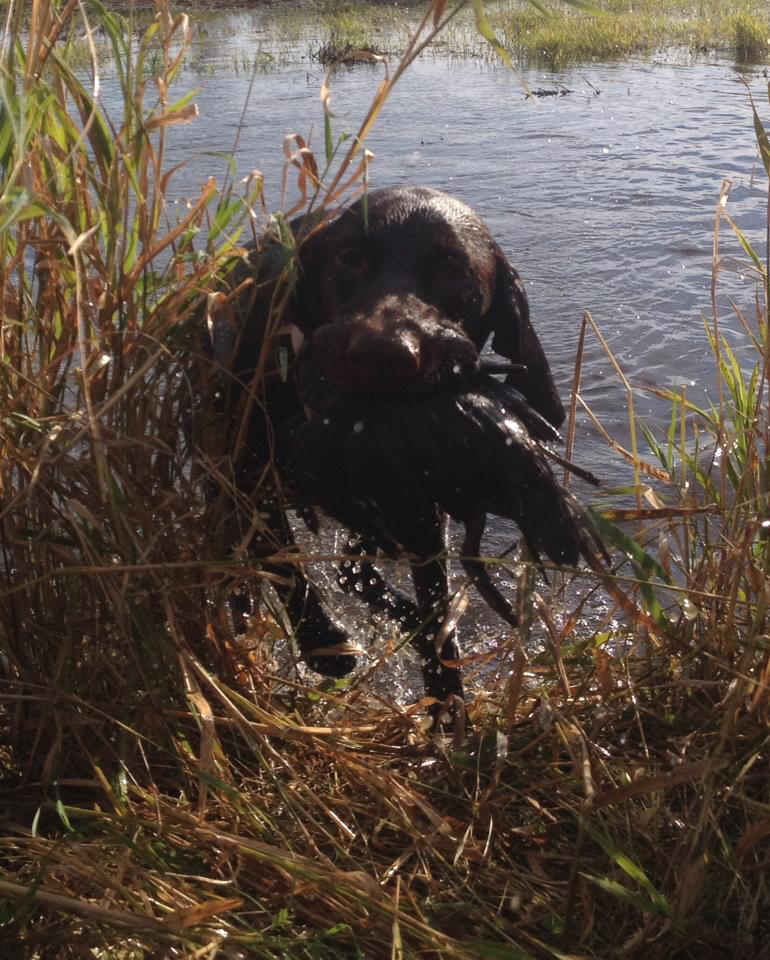 Mesa making a duck retrieve 10-8-13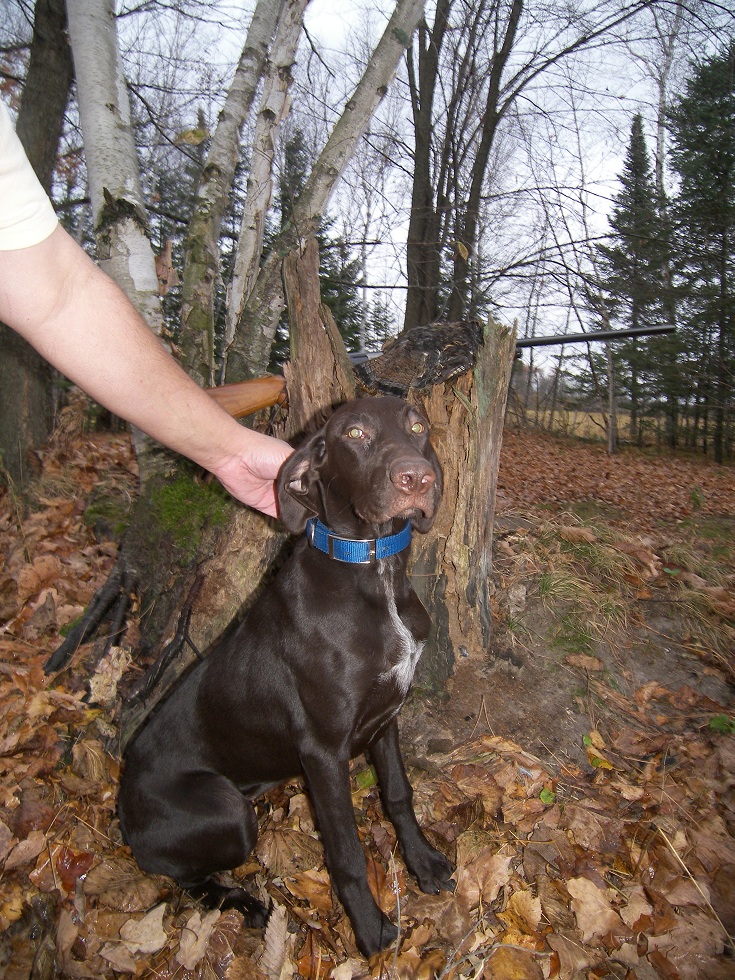 Lehman's Double Stuff Oar E O
call name oreo
White and Liver Ticked and Patched
DOB=4-16-2013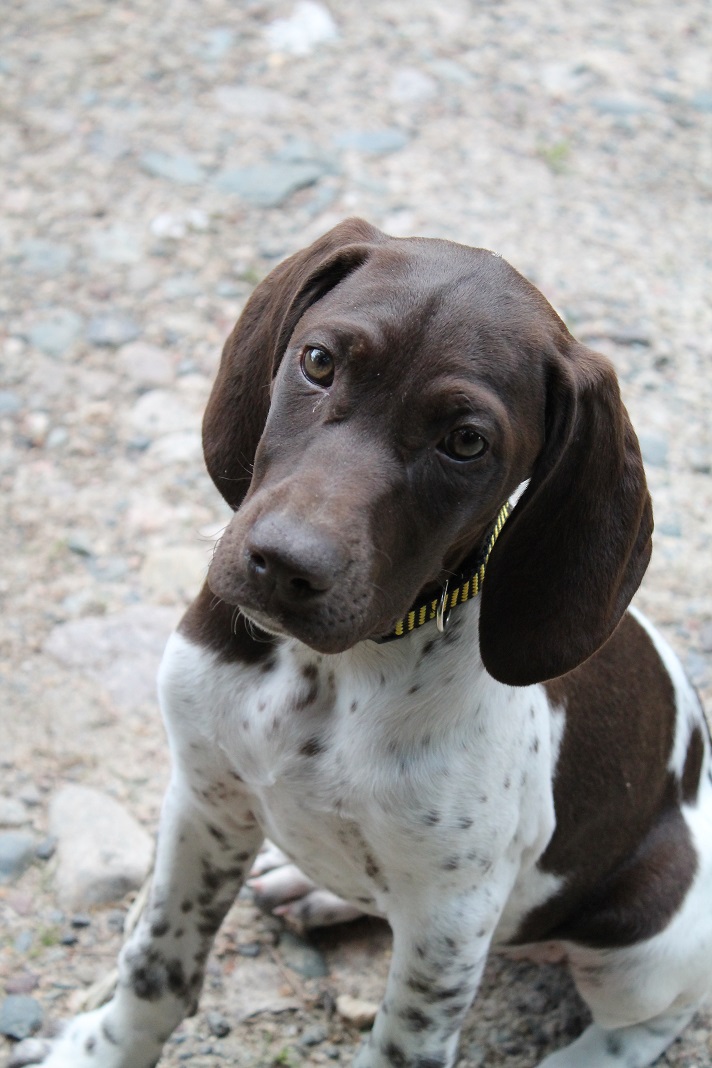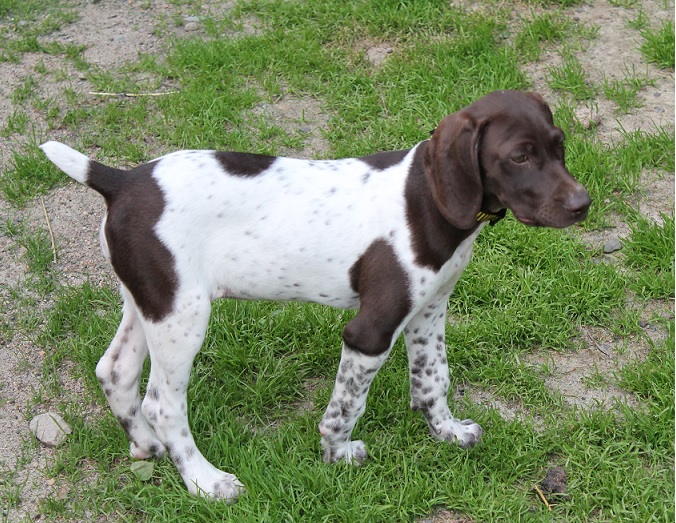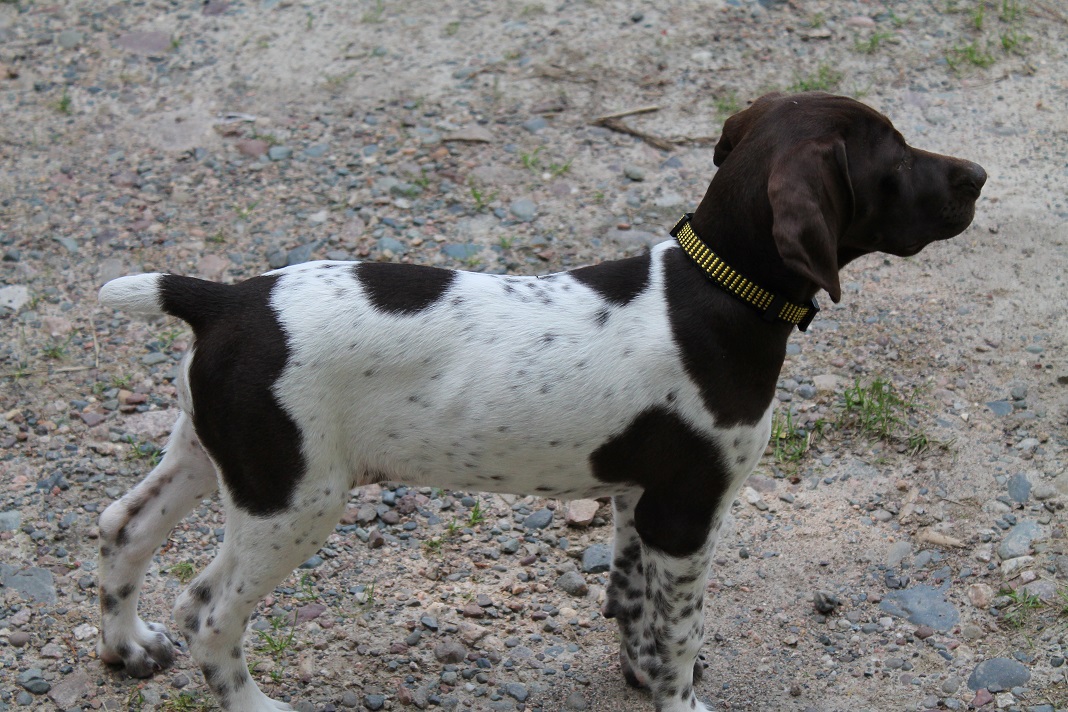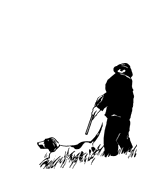 Projected Breeding Nothing at this time
This means months I expect the breeding to occur
All deposits are non-refundable
Nov 2013 Lehman's High Velocity Tripper and Lehman's Von Wreck-N Mesa I'm currently taking reservations for this litter 100.00 deposit Price of pups 550.00
For more information:
ballbluff@hotmail.com
Chuck and Vickie Lehman
19650 650th Ln
Jacobson, MN 55752
218-752-6687